These Five Words Are Mine Autographed Copy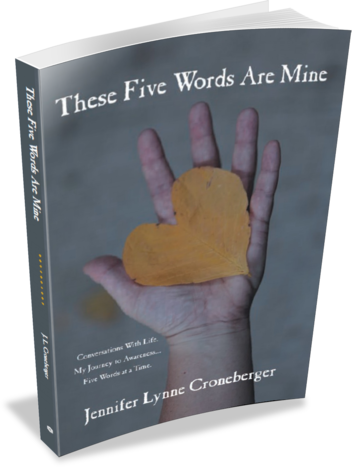 By Jennifer Lynne Croneberger
$25.00
Here's What People Are Saying
So much of Jen's writing brought back memories of my own childhood… my own interactions with people, that I felt like I was a part of the book as I read it.
Some excerpts reminded me of the stupidity of walls…life is more beautiful without them. Our souls, hearts, and minds see what we allow them.
A must read for anyone who wants to deepen their awareness and journey into areas they have not yet realized about themselves. I had goosebumps after reading this.
LCSW Relationship Therapist
Far from an ordinary book. It is a friend. If read with an open heart, not only do we realize we are not alone, but we will never look at ourselves and those around us the same.
There comes a time when one is ready to learn…and there is no better way than through story; This is one such story. I have read this 4 times….and I simply love it.
Jen is one of the most effectively inspirational speakers and writers I've ever come across. Her words reach into your soul like a knife cutting through butter, and you connect immediately. Uplifting, and thought provoking, you'll never feel the same or look at the world in the same light after reading this book.