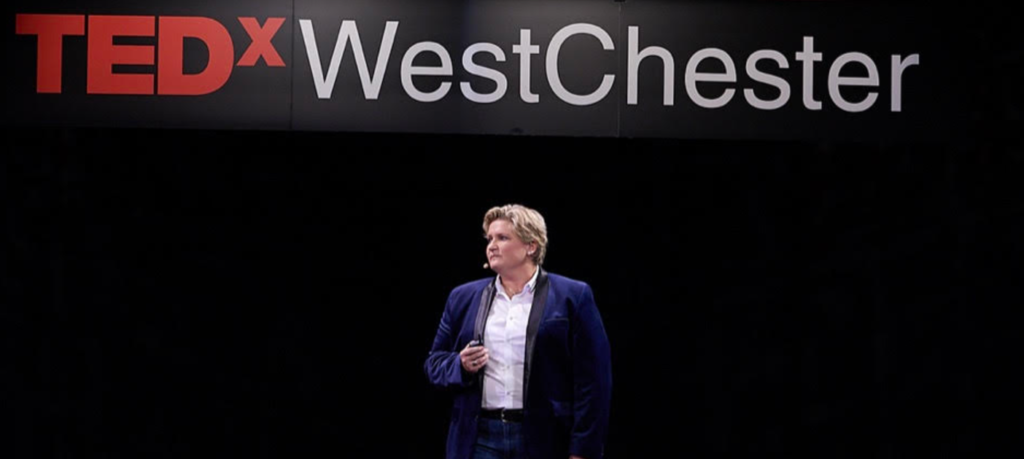 "I told the committee that in my 20 years of event planning, no one has ever had
100% positive comments… Until you! — Fabulous!"
Jennifer Cramer, CMP
Director of Conferences and Events
Pennsylvania School Boards Association
Jen is a highly-sought after keynote speaker for large organizations, associations and corporate clients across the country and has been consistently named one of the top-rated motivational speakers in the Philadelphia, NYC and Washington, DC regions based on client reviews on Thumbtack, a booking site for speakers. 
Her thought-provoking, dynamic, story-telling approach has gotten praise from clients at organizations including NIKE, Procter & Gamble, Johnson & Johnson, The US Dept. of Defense, The USDA, and the NIH. 
Jen is a thought leader who doesn't just push boundaries, but eliminates them from mindsets that have been previously stuck or limited in belief or growth. She reaches every corner of the room and finds ways to make you feel like she is talking to YOU. Jen pulls out the best in us to connect us to each other in every room she enters. 
With Jen, your best event awaits you…
Keynotes: (Everything can be done live or virtually)
The Five C's
This is Jen's flagship keynote and the one that has brought her such awards and celebration as one of the top keynote speakers you will have the pleasure of listening to. She uses life-stories and humor to bring you along for the ride, and to discover all that you have awaiting your best self.
Being an effective relationship-builder hinges on our ability to be inspired by passion and driven by the mission of our life's work. Being able to show up as your best self in a very change-centric time always and most effectively begins within and by taking ownership of five specific principles. 
These Five words will not only open your eyes to a new way of seeing the world around you, but the humanity within you. Character, Communication, Choice, Courage and Confidence, are ideas that lay the foundation to becoming the best version of ourselves possible. It's time to push boundaries.

We don't know how far we can go until we go there.
Compassionate/HUMAN Leadership
This concept is being written about in every business journal, magazine and online resource today and is a conversation that needs to be happening daily in workplaces everywhere. People are a company's greatest asset and always will be. 
Understanding how we can lead from a place of compassion and empathy and get the most out of our employees will create stronger teams. 
Outcomes include defining Vision, Mission and Purpose as guideposts from which to begin, Learning how to use listening as one of your most important leadership skills, approaching tough conversations, seeking to understand others' viewpoints, building empathy and vulnerability as strengths and creating cultures of belonging that draw teams together, and creating an organizational movement they want to be a part of.
RE-WRITING YOUR STORY: I can't to I DID.
This topic combines some of the above principles and puts them into action in more of a workshop conversation.

We write our own stories every single day and we live them out, forgetting they are actually a choice we make. The truth remains, you own the pen… and you can rewrite them any time you want. Maybe today is your day to do just that.

In this discussion, discover how your own inner chatter will create your outcomes and how you can change the words you say to yourself to help re-write what comes next.
Define who you are by understanding what your personal non-negotiables are and how they show up in the words you say and the things you do. 

Customized Keynote/Workshop/Seminar
Jen has enlightened and inspired audiences all across the country and can combine the above to meet your specific needs. She can deliver anything from a keynote to a multi-day workshop/seminar to help deliver a powerful and memorable event. After a conversation around your needs, Jen pulls pieces from the above to create exactly what you want your team to walk away with.
Jen spoke at our company's Leadership Conference for ~45 of our managers that traveled in from the 11 states we work in. The group ranged from Vice Presidents to first line supervisors. Jen was engaging and captivated our group from the beginning to the very end.
Goldee D. of Government Healthcare Organization
Start The Conversation Today
As you begin the planning stages of your upcoming event, reach out to our team and we will be more than happy to assist in making your event a dynamic, memorable, and moving experience for your audience.